Personalised Phone Cases: Design your own Phone Case
Wrappz offers custom phone cases that not only keep your phone protected, but also makes it easy to locate your phone if it gets misplaced. We design the cases using extremely high grade polymers and the highest quality inks, so that they'll last really long. They are waterproof and offer ultimate protection for your phone.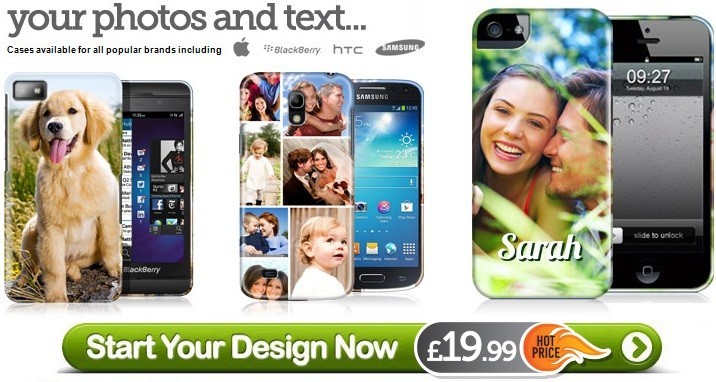 Whatever device you own, you can make your own phone case by uploading your favourite photos. Our photo phone case maker makes it incredibly easy and great fun to get creative and design your own personalised phone cases for iPhone, Samsung Galaxy, Blackberry, Sony Xperia and HTC.
Create your own Phone Covers Easily
With our interactive online app, it's incredibly easy to create your own phone case within minutes. Just upload the photo you want to use. The app offers a range of cool images from artists and funny slogans in case you don't want to use your own. You can even import an image from your Instagram or Facebook account and have options such as selecting background colour, add / move / scale your picture, add text in your chosen font style, colour, size and more.
Again, because the customised cover wraps the whole case including the sides, it adds a bit of individuality to your phone. Personalization makes it easier to track your phone if it gets trapped amongst paperwork or left behind at a restaurant or the gym.
Get your Custom Phone Cases in 1-2 days
Since the image is printed using the latest 3D dye sublimation techniques onto durable high quality 100% polycarbonate cases, it won't fade or discolour in a hurry. The vibrant full colour finish is enhanced with a gloss coating, making our cases the most premium in the market. Unlike most covers which leave the sides unprinted, our process provides a complete coverage and therefore looks the finished article.
We make it simple for you to design a phone case that you can claim as your own. And since we produce your personalised phone case cover right here in the UK, we can deliver them in just 1-2 working days. Personalise your mobile phone covers today using your images and stand out from the crowd for under £20!