Make your own iPod Touch 3rd Generation Skins
With a thin design, the iPod touch 3g (3rd generation) provides 32 GB of stored fun in a remarkably small package. Able to hold thousands of songs and images, the iPod 3rd gen also displays polished edges and a silk-smooth finish design - features you don't want to damage by everyday wear-and-tear.
That's why you'll want to look at the Apple iPod Touch 3g skins that are featured on Wrappz. The skins, which are made of high-grade 3M vinyl, precisely fit your technology so it's protected from dust and scratches.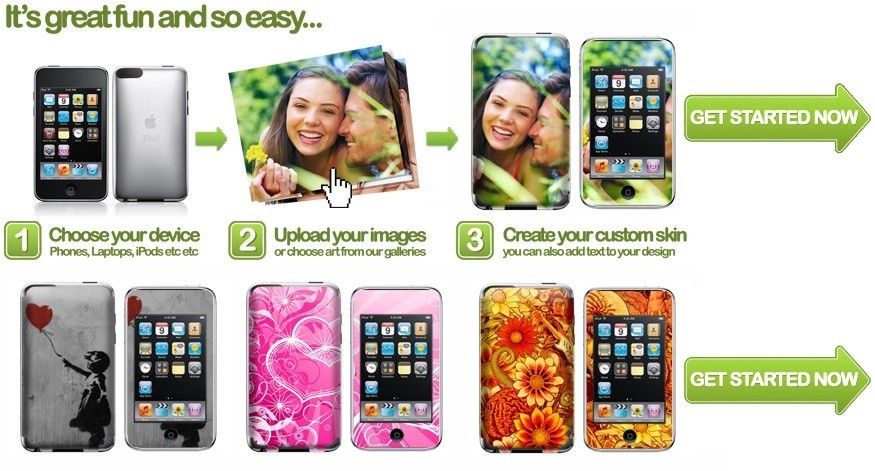 Create your own Custom iPod Touch 3rd Gen Skins Easily
The Wrappz design and creation portal allows the user to upload an image from their computer and put them straight onto a skin for ipod touch! Once uploaded, the images can then have text added, you can change layers, scale them, and manipulate the skin to look exactly how you want! Have a look at our amazing gallery and select a design from one of our hot artists. Their work is truely brilliant and with a number of categories including graffiti art, cartoons and comics, traditional art, digital art, manga and anime to name a few; we're sure to have something special for you! You can also customise the skin with a picture from Instagram or photo from Facebook.
Because the skin is personalised, you can find your iPod more easily should you mistakenly leave it behind in a public place.
Get your Custom Apple iPod Touch 3rd Generation Skin in 1 - 2 Days
Keep yours up with fashion with customised Wrappz 3M vinyl ipod touch 3rd generation skins - making it completely unique and much more personal to you
.