Which Is The Best Type Of Phone Case For Me?
There are few things quite as satisfying as that new phone feeling! However, with our phones following us around everywhere and all the bumps and falls that can easily occur, that big new shiny screen is unlikely to remain pristine for very long without some added protection. With so many options available, understanding which phone case is best for you can be confusing. In this guide, we'll run through everything you need to know to help you match your phone with the perfect case, giving you peace of mind whilst simultaneously showing off your unique style.
Types of phone cases
When choosing the type of phone case that is best for you, you should first consider the amount of protection you are going to need. All phone cases will offer you some level of protection, whether that is from small scratches and nicks, right up to bumps and falls, so it's important to think about your lifestyle and how likely those accidents are to occur. Phone cases aren't just about protection though, and you'll want to choose something that reflects your personality and makes your phone look amazing!
Standard cases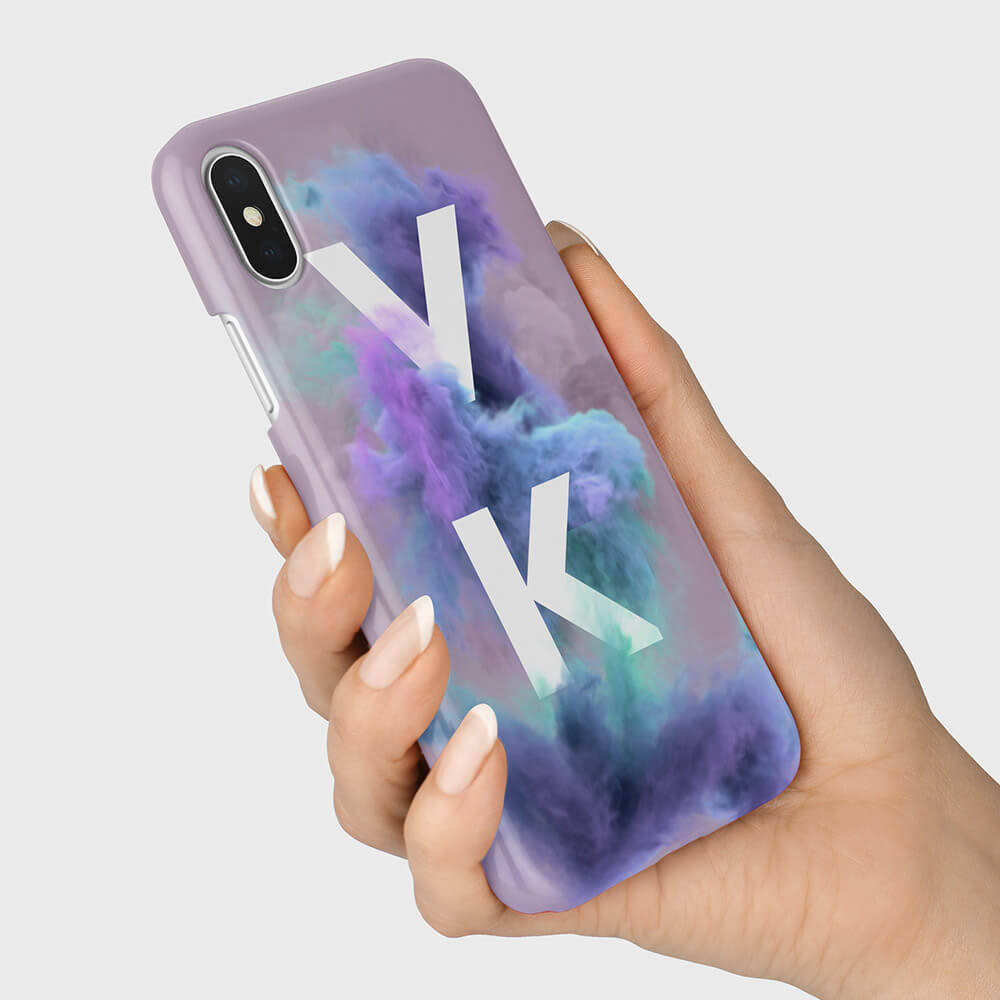 Standard phone cases cover the back and sides of your phone and can come in a variety of materials, ranging from silicone to leather. Standard cases may also have a lifted bevel around the screen keeping it protected from any scratches and scuffs when placed face down. Standard cases are perfect for anyone looking for a light-weight design offering good protection and ease of use.
Tough cases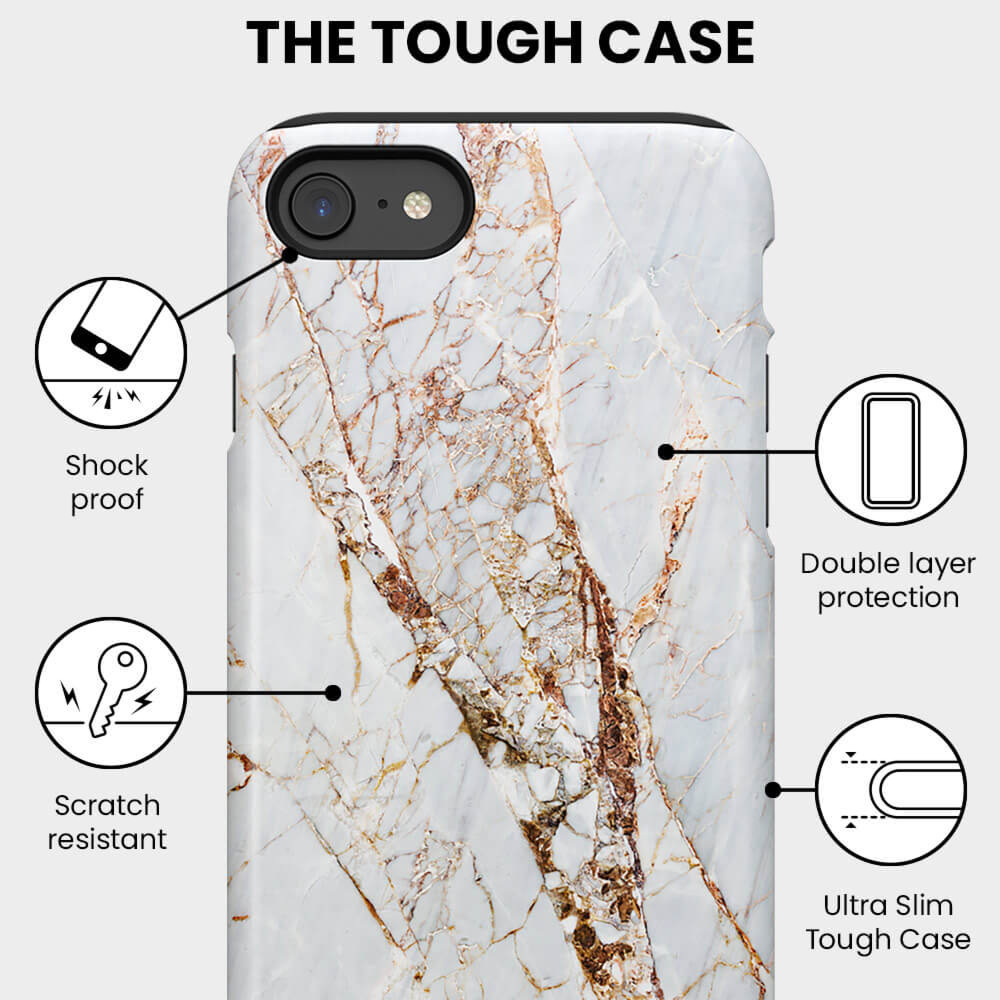 Tough phone cases usually have multiple layers using different materials, and are designed to withstand more severe impacts and scratches than standard cases. Some more advanced models can even protect against water or dust ingress. Tougher phone cases are a fantastic option for those who lead an active lifestyle, young children, or anybody who would just like the peace of mind knowing their device is extra protected.
Flip cases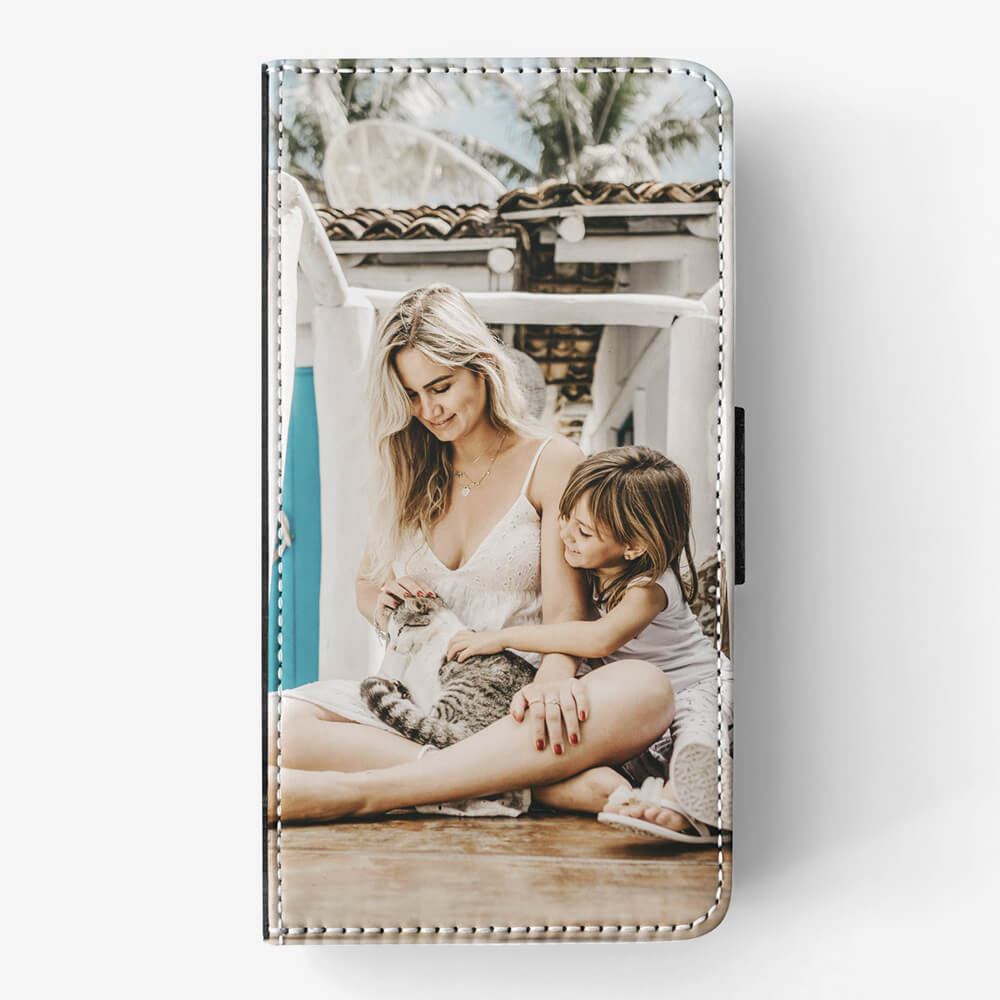 Flip phone cases, sometimes called folio or wallet cases, act like book covers around your mobile. These cases offer great protection against scratches and nicks as your screen is also completely covered. Flip cases can also offer handy features like slots for your cards and cash, or double up as a stand. Flip cases are great for anyone looking to protect their phone in style!
Which phone case material is best for me?
Plastic cases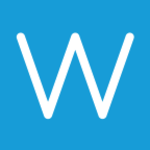 With the beautiful brushed finishes new phones come in nowadays, it can feel like a shame to immediately cover up your sleek new device with a case. If you want to show off your new tech whilst making sure it's protected against bumps and scrapes, our fully customisable clear phone cases may be exactly what you're looking for. They are also made from 100% recyclable materials, either soft silicone or toughened polycarbonate, meaning you can protect your phone and the environment at the same time!
Silicone cases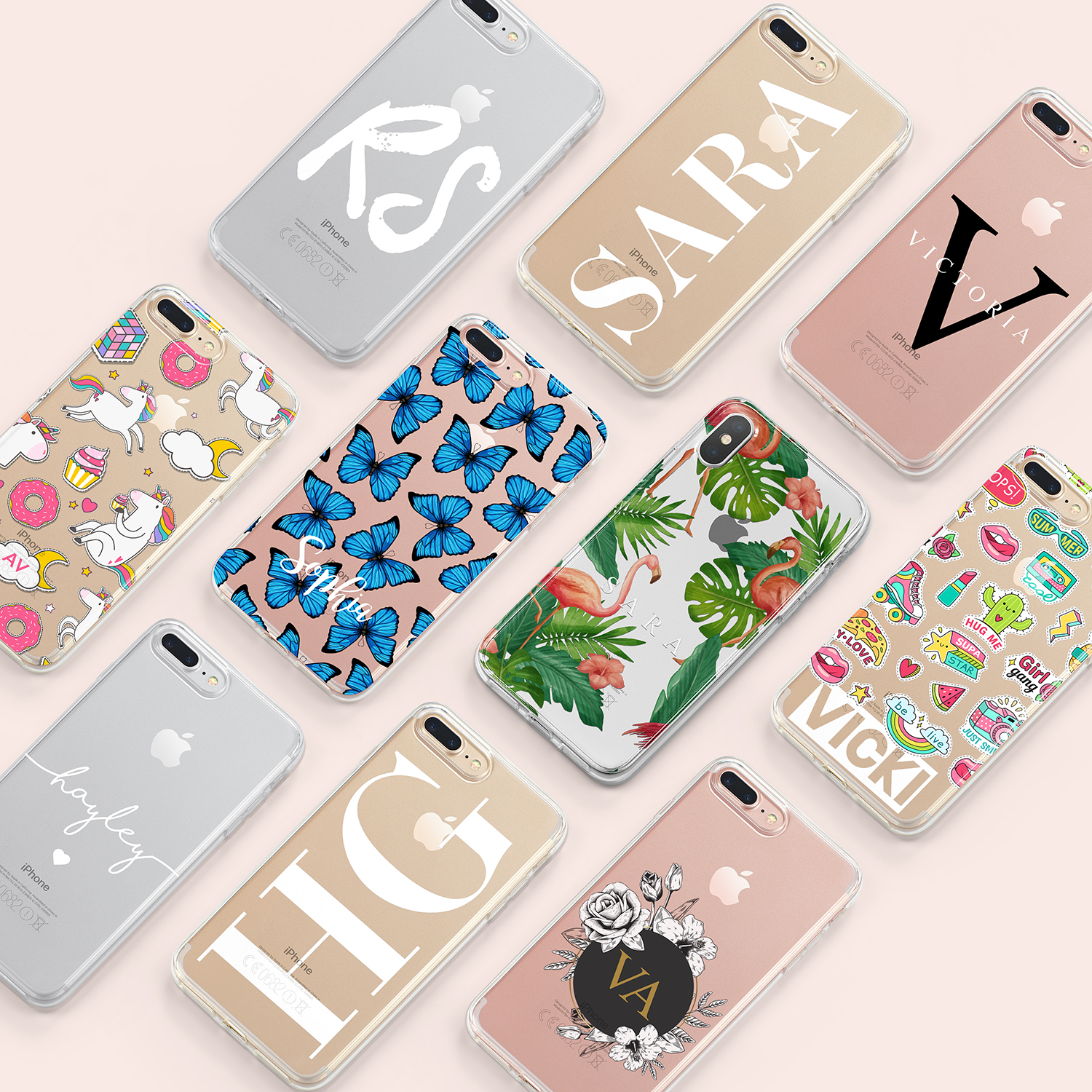 Silicone phone cases are flexible, light-weight, and fit snugly around your phone, offering a good level of shock absorption and protection from light bumps. Another feature of silicone cases is the lifted bevel surrounding the screen, allowing you to place your phone face down without worrying about scratches and scrapes.
Polycarbonate cases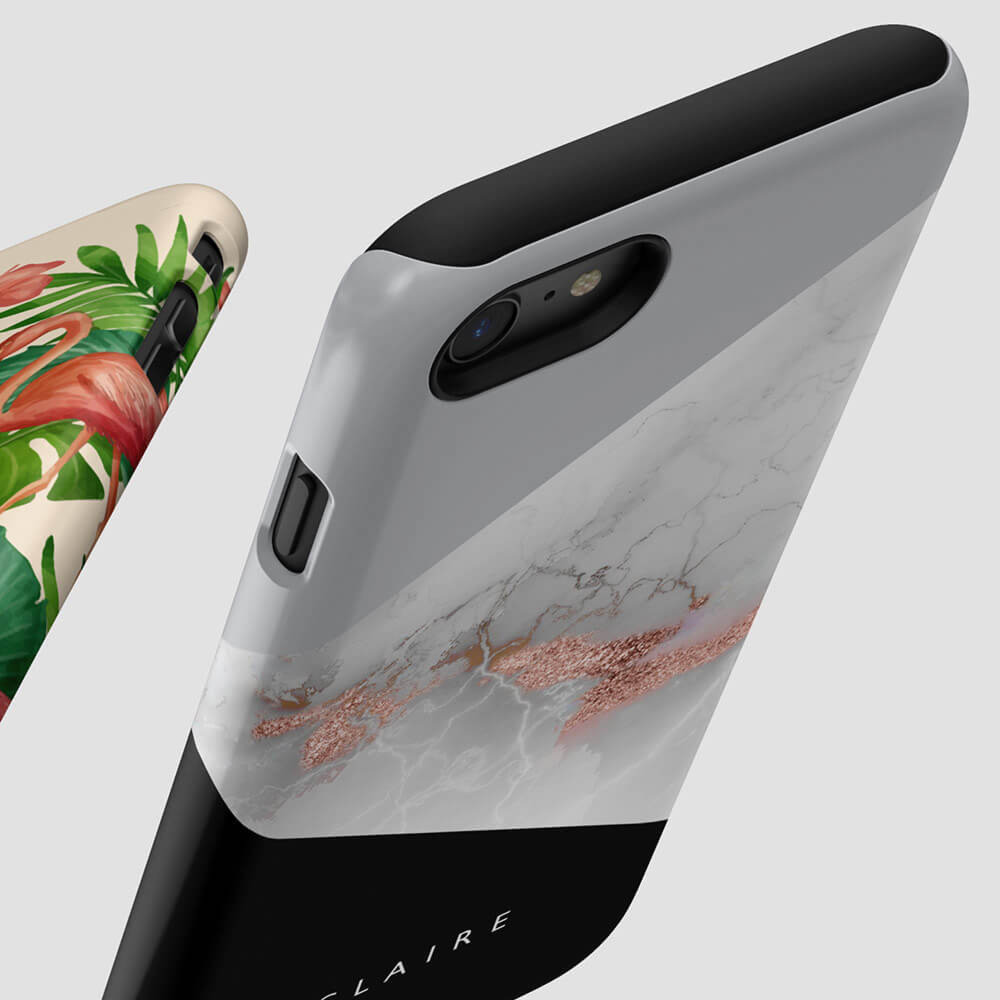 Hard phone cases are made from toughened polycarbonate making them extremely durable despite being ultra-slim. A hard case will offer added protection to the vulnerable corners, edge, and back of your phone. As well as clear hard cases, we also offer fully printed and customisable polycarbonate hard phone cases in an eye-catching matte or gloss finish.
Leather cases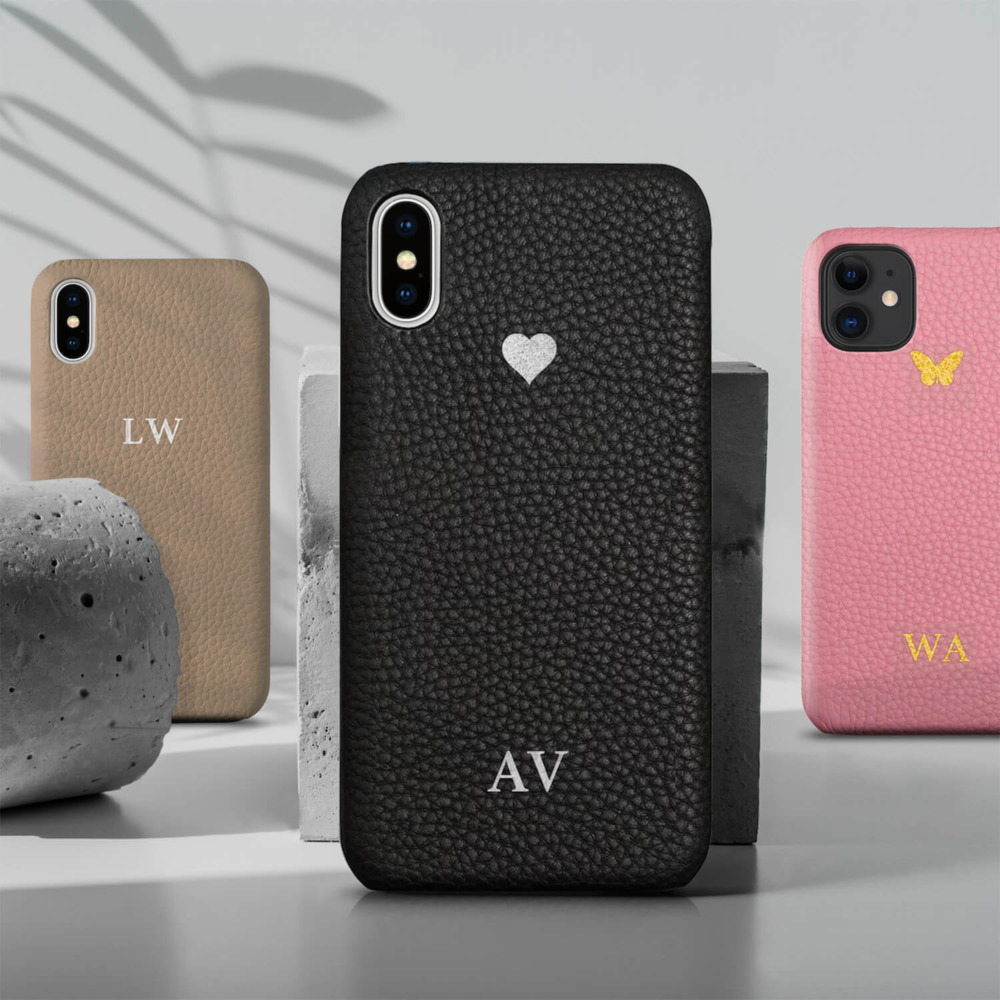 Leather phone cases are a great option if you're looking to protect your phone in style! Leather's natural tough quality means it's great at guarding your device against scratches and is a great way of standing out from the crowd. Another benefit of a leather phone case includes its natural non-slip grip, reducing the chances of it falling from your hand significantly.
Contrary to what you might think, a premium leather phone case does not need to break the bank! Here at Wrappz, we are proud to offer the choice of stunning personalised monogram and printed hand-made leather cases at affordable prices. 
Faux leather cases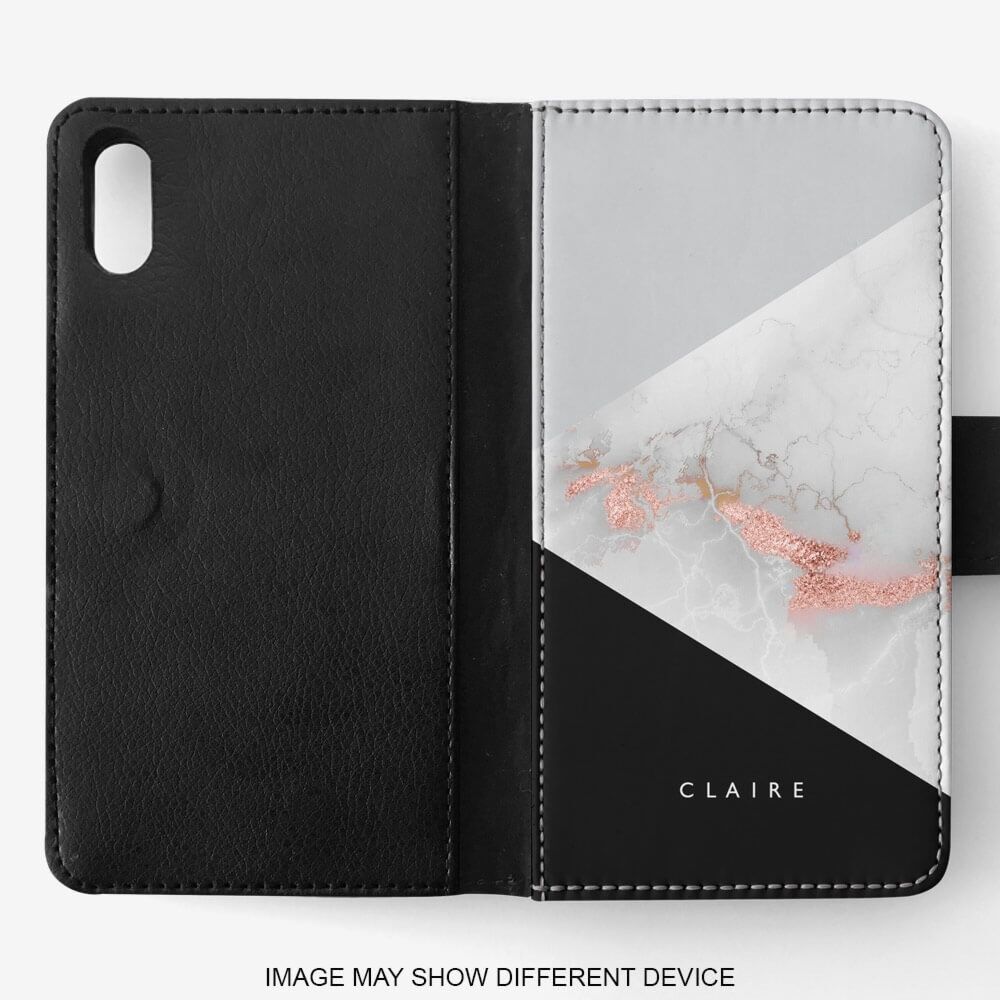 Faux leather phone cases are a beautiful animal-friendly option which retains the quality appearance and protection of genuine leather. Here at Wrappz, we are delighted to offer the world's first digitally printed faux leather cases, allowing you to personalise your own faux leather phone case with any image!
Best protective phone cases
For anyone whose phones may find themselves in particular danger of bumps and scrapes, you may be wondering what the best type of phone case for protection is.
A hard phone case made from toughened polycarbonate will go a long way in terms of protection. But, for those of us who are particularly accident-prone, or maybe just want that extra bit of reassurance their phone is safe, our specially designed heavy-duty phone cases are the best protective phone cases on the market. And it gets even better; a super-strong case does not have to be bulky and heavy.
Our customisable heavy-duty phone cases are precisely engineered to be super-slim, with a shockproof inner layer covered by a rugged outer shell, meaning your phone can be extra-protected and still look amazing!
Best phone case features
Flip phone cases are a brilliant way of combining protection for your phone with practicality. With smartphones constantly growing in size, space in our pockets and bags is becoming scarcer, and being able to combine your phone case with your purse or wallet is an extremely convenient feature. Our faux leather flip phone cases come with 3 slots on the inside cover, meaning you can safely store your mobile, cards, and cash in one easily-accessible compact case.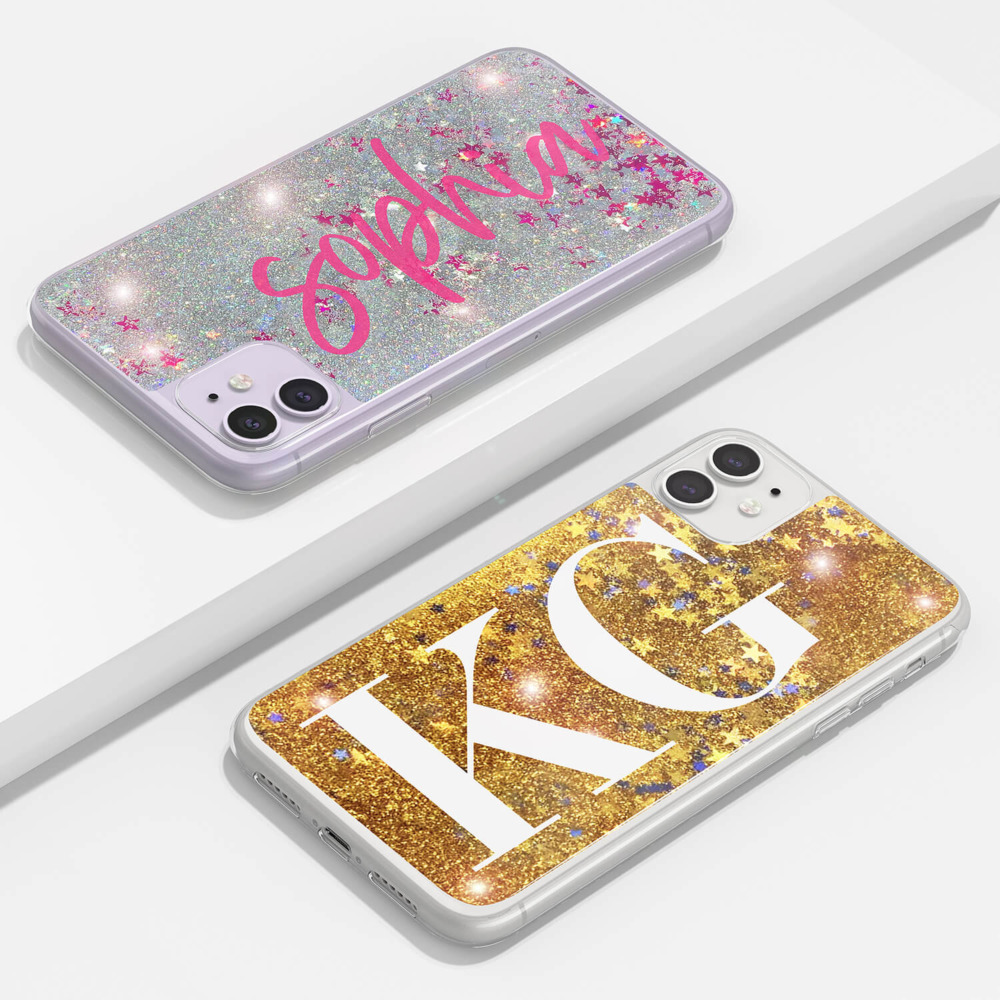 Want a phone case which will make you stand out from the crowd? Protect your phone and give it that wow factor with our vibrant glitter phone cases. Made from a combination of toughened polycarbonate, TPU gel and glitter, this case will keep your phone safe from bumps and scrapes whilst making it eye-catchingly sparkly.
That's a wrap!
For a phone case that will look amazing and protect against light bumps, scratches and scuffs, your best options are either silicone or leather cases, but, for protection against harder impacts, you may want to consider a hard polycarbonate case. 
If you are looking for something which combines protection with sophistication and practicality, a flip phone case is the perfect option.
If you have just got a new phone, or it's just a matter of time before a fall occurs, a heavy-duty case is the ultimate protective shell for keeping it safe in any environment.
All the phone cases mentioned in this guide can be personalised to include your own images or text, allowing you to show off your unique style and personality. Upload your own images, or choose from a large selection of design templates. Start your design today and create the perfect personalised phone case with Wrappz!