Personalised iPad Cases
Personalised iPad cases offer some much needed protection from bumps and scrapes. Design your own case using your own images and text, it only takes a few minutes and the cases look awesome - you can even use the ready made templates to create a collage effect in just seconds.
If you use your iPad every day an iPad hard case is an essential accessory to protect it from wear and tear at school, work or on the move. As robust as the Apple iPad is, it is still quite a delicate device and prone to annoying marks and damage. If you already own one or are thinking of purchasing one soon, it is a very good idea to consider one of these cases.
Bring your own sense of style to your iPad technology using our online interactive app. We give you complete freedom to design the perfect custom iPad cases for iPad 2, iPad 3, iPad 4 (retina display), iPad Mini and the new iPad Air that reflects your personality.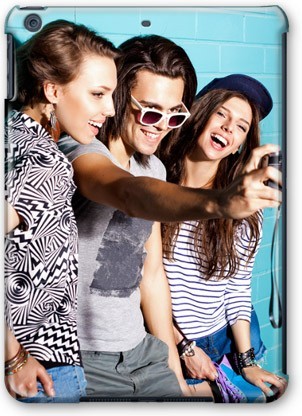 Simply Stunning Personalised iPad Cases?
Wrappz personalised iPad cases are produced using the very highest quality materials and photo quality prints to give an outstanding finish. Our cases provide protection and personalisation all in one perfect package.
It couldn't be easier to design your iPad case, upload your own photos and add text - it's that quick. You can even choose from numerous preset templates so you can create collage designs in just a click.
Our iPads are a constant companion these days so protecting yours against the inevitable knocks and drops really is the sensible option. Our cases are durable and last very long lasting so they will keep your beloved iPad in tip top condition.
We have cases for all models of iPad including Air, 4, 3 (New), 2 and of course the baby of the family the iPad Mini. Release your creativity and show off your individuality wherever you are with a stylish accessory for your device.
Create your own design for a Personalised Photo iPad Case
Using our ipad cases designer, you can design your own case by uploading your personal photos or importing from your online photo album from sites such as Facebook or Instagram. In addition, the case designer features thousands of images or artwork for you to choose in its online gallery. You can also include a slogan, your name, initials or any text in a number of font colours and styles.
The protective case provides easy access to complete functionality such as stereo speakers, usb connector, headphone jack, volume controls, camera, power button etc without the need to remove the case. Using a process called 3D sublimation, the images are printed onto high quality durable polycarbonate hard plastic case including the sides.
Just select the right image, lay it out and add text to it to make your own custom case for iPad in minutes that will make you stand out from the rest. So, keep them protected and intact and reduce the chances of loss as well. Please note these are not skins.