Faux Leather Phone Cases
Create your own fantastic design that we'll print in photo quality high resolution on the front of these stylish cases. The rest of the case is styled as a smart black faux leather case. Faux leather is a high-quality, hard wearing and animal-friendly alternative to a real leather case, ensuring the case has a premium finish but isn't cruel to animals.
Made from PU leather with suede lining and spine, they will protect your phone from bumps and scratches and keep it in pristine condition while looking amazing. The cases are made specifically for each model of phone and snap firmly around the device offering protection for vulnerable areas such as corners, edges and the rear surface. Whilst when securely closed, they will offer maximum 360° protection including the device display.
Carefully positioned cutouts and access slots are also offered for each of main phone functions including (but not limited to) cameras, flash, power buttons, volume buttons, mute switches, auto jack, speakers, microphones, power socket and memory card ports.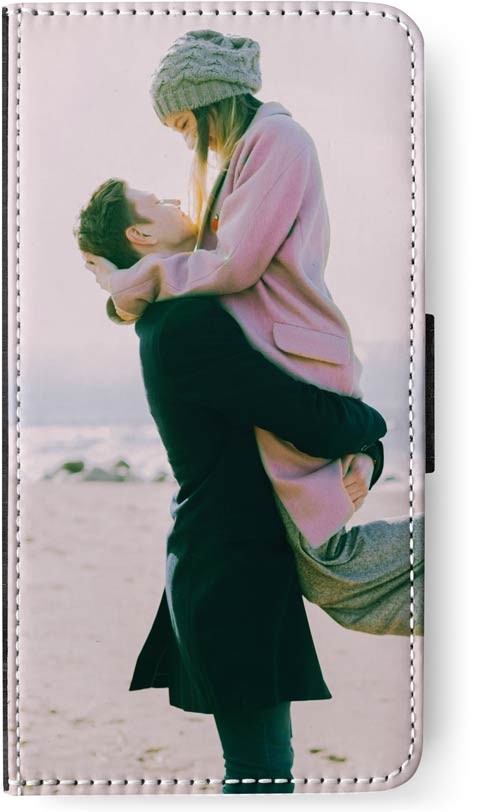 Personalised Faux Leather Cases
We are proud to offer the highest quality, digitally printed, faux leather wallet flip phone cases for a wide variety of devices, including iPhone X, iPhone XS, iPhone 8, iPhone 8 Plus, iPhone 7, iPhone 7 Plus, iPhone 6, iPhone 6 Plus, iPhone SE, iPhone 5C and iPhone 5.
We also supply cases for the following Samsung models: Galaxy S9, S9 Plus, S8, S8 Plus, S7, S7 Edge, S6, S6 Edge and many more.

Our cases are visually stunning, with the appearance of high-quality leather and the added ability to customise them with your photos, images and text - create your own personalised phone case and treat your device with a quality case featuring a photo of friends, family or even a beloved pet!
Our easy to use designer app makes it simple to design a leather cover in minutes. Upload your photos and lay them out just as you like, we even have pre set templates to make it simple and quick to do. All our products are proudly made in the UK.