At Wrappz, there's a lot brewing. We've just given your morning cup of cheer a new lease of life. Take a look at our range of ceramic, stein and porcelain coffee mugs and you'll understand why.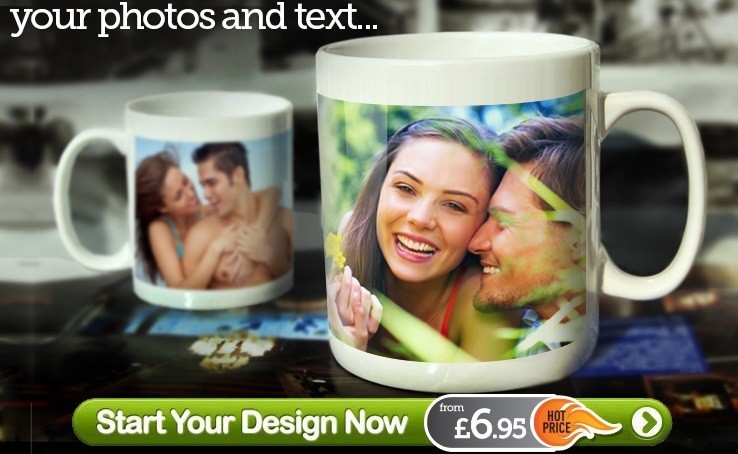 Create your own Personalised Mug Easily
Whether it's the latest family photo collage, your name or an image from your recent adventure holiday, seeing your favourite picture on your mug each morning is sure to bring a smile to your face. You can also have slogans or humorous text printed to complete the look.
White Ceramic Mugs
It doesn't matter if you like your coffee black or find greater comfort in drinking your coffee with cream and sugar. Either way, chances are you'll love this 10oz white ceramic mug that comes in the shape of a classic coffee mug but allows you to custom make it in ways that can heighten your sense of artistic creation. The broad flat surface of the mug encourages easy personalisation with a high-resolution image of your choice in a print area of 200x80mm.
Stein Mug
If you are a coffee guzzler who likes a large morning latte, why settle for anything less than a quality stein mug? Our white 15oz stein mug is perfect for those of you who can't seem to get enough of their morning beverage. Also suitable for gifting, the stein mug gives you a slightly bigger surface that can be personalised with a glossy image that can lend it a unique look. Whether used frequently or gifted as a souvenir or memento, the stein mug is going to remain a favourite for a long time!
Porcelain Mug
If porcelain is your style, take a peek at our 10oz porcelain mug that boasts of a timeless appeal for any occasion. Add a 'classic' touch to your drink-ware with this high-quality, clean-lined lightweight mug that also allows you to personalise it with your choice of design or a glossy image. You can browse through an array of designs, funny pics and colours until you've found one that reflects your style. Whether it's a delicate design or an overtly decorative one, when it comes to porcelain, it's all about the blend of quality and personal style.
Get your Personalised Photo Mug in 1-2 days!
Now, sit back and enjoy your steaming beverage. Your coffee breaks are just about to get longer! We sell a huge range of customised mugs all made here in the UK. So if you are looking for high quality personalised photo mugs, order today. and get it sent within 2 days.