If you carry an iPhone 4, then you know how indispensable the Smartphone is to own. Therefore, you want a cover that will keep it protected and easy to find. The skins by Wrappz are made of 3M vinyl and are a fashionable way to keep your phone safe from dirt, dust, or scratches. Plus, if you ever need to remove the skin, it's easy to do without any sign of residue.
Our iphone 4 custom skin application is lightening quick and easy to use with helpful tips and ideas all the way through to create your own inspired custom skins for iphone 4s / iphone 4.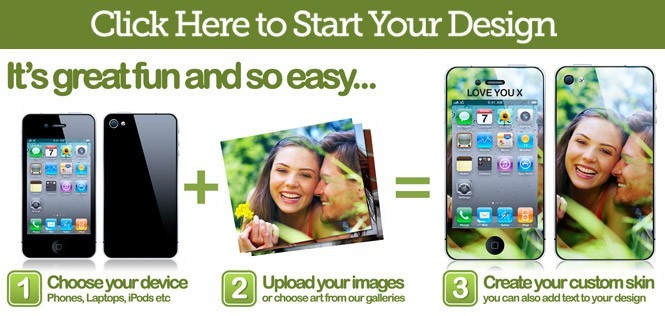 Make your Custom iPhone 4/4s Skin Stickers Easily
When it comes to customisation, be as creative as you want. Import your favourite images and photos from your computer or load them straight from Facebook or Instagram. You can use as many as you like and then lay them out however you wish. You can also apply special effects to your images like changing the colours to black and white or applying a warp filter to it and many other effects to choose from. You can also add some text to your design in any font styles or colour you please.
If you don't have your own images that you want to use, then you must check out our mighty selection of gallery images. We've got artists images, photography, backgrounds, patterns, slogans and also a section with funny eyes, noses, hats, glasses etc that you can stick on your images. Our artists section is tremendous and features genre such as cartoons, futuristic, gothic, graffiti, street art and more. Dig out your favourite photos now and start designing your custom iphone 4 skin today.

Get your Custom iPhone 4 skins in just 3-4 days!
Because iPhone 4s skins can be personalised, you can keep your Smartphone nicely intact and much simpler to locate, especially if you leave your phone among the shuffle of papers on your desk or on a table in a restaurant. These are not cases!
So give yours some much needed armour against the scuffs and scrapes of everyday life with a superb looking protective vinyl skin sticker. They are great value at just £7.99 plus postage and they get to you double quick as they are despatched within 48 hours of you ordering from UK.